Exercise bikes are a great way to get in some home aerobic workout that relaxes you and helps you become healthier.
Exercise bikes are excellent, less bulky home equipment. They can be placed anywhere, and you are ready to go.
With COVID-19 swarming in this modern age of the world, exercise bikes have become the go-to for health enthusiasts and bike enthusiasts.
Trust me when I say this, going to the gym can be tedious. The long journey to and from the gym and traffic on the road seems like the previous generation.
For a bike enthusiast who likes to stay fit, like me, it is the best possible equipment I could imagine having at home. Riding a bike at home and getting healthier by the minute? Take my money, please!
There are a huge number of exercise bikes to choose from right now in the market. Finding the best one for you can be challenging.
To make your search easier, I have compiled a list of the top 10 exercise bikes you should consider buying.
Going to the market and picking one exercise bike can be easy. But I encourage you to go through this article before you leap.
I have also covered some topics that you will definitely find helpful, along with the list of 10 exercise bikes. So, let us get started.
Types of Exercise Bikes
There are generally five types of stationary exercise bikes. Every single exercise bike offers different benefits.
1. Upright Exercise Bike
Upright bikes are the most popular exercise bike available. It offers most features similar to a regular bike. Bicycle riders usually choose this type of exercise bike because of the positioning of the pedals, which are just under your body.
Upright exercise bikes provide excellent cardio workout as it strengthens your leg and core muscles.
A downside of upright bikes is the upright positioning. It can put pressure on your hands.
2. Recumbent Exercise Bike
Recumbent bikes are famous for their comfortable reclined positioning. The seat is positioned back from the pedals, increasing comfortability.
Recumbent bikes put less stress on your back and joints as you can fully recline on the bike. The support on your bike makes the workout less intense but still effective. With such comfortability, you are bound to have less fatigue and muscle soreness.
It is an excellent option for people with limited mobility, leg issues, or back pain, as this exercise bike gives you great comfort.
3. Dual-action Exercise Bike
Dual-action bikes differ from regular bikes as the handlebars move back and forth to target the upper body.
As the name suggests, you get a full-body workout with this type of bike, not just a lower body.
For an intense working person like me, this is the best fit as I can pedal away and work my legs. And at the same time work my hands and upper body.
4. Air Bike
Air bikes are the best if you are into intensive workouts.
With air bikes, you can work out regularly and take your cardio fitness to the next level while also toning your muscles.
If you are looking to shred some extra weight, this is the ideal type of exercise bike for you.
5. Indoor Cycling Bike
Indoor cycling bikes are designed to make you feel as if riding a regular bike outside. You will find such types of bikes in fitness studios or some gyms.
Indoor bicycles are similar to upright bikes. But one thing that differs here is the elevated seat in indoor bicycles.
One feature of indoor cycling bikes I love is adjusting the resistance to simulate riding on a hill or into a strong wind.
Things to Know Before Buying an Exercise Bike
Whether you are an experienced rider or looking to get started with an exercise bike, you should understand the five basics of indoor cycling features.
1. Flywheel
Flywheel is the big weighted disc at the front of the bike. It generally weighs between 30 to 50 pounds.
The flywheel of an exercise bike is connected to the pedals by a chain or a belt. It helps in creating a smooth momentum as you pedal.
The thing to note here is that not all exercise bikes have a flywheel, though. Some exercise bikes use magnetic or fan-based resistance as an alternative.
2. Saddle
The saddle is the seat of the bike. The seat of the bike, saddle, is where you sit and pedal.
Having a properly sized saddle for you is imperative.
3. Pedals
Paddles are the most important feature of any bicycle. It is where you place your feet and gets those legs in action.
Although not on all bikes, the pedals will have a clip-in mechanism on some bikes. Such a mechanism would require you to get special cycling shoes to ride.
4. Resistance
Resistance is the experience of feeling the tension that occurs as you pedal the exercise bicycle. You might feel that the pedal is hard or soft while riding. It is resistance.
In most exercise bikes, the resistance may be controlled with a knob or console with buttons.
There are three types of resistance in exercise bikes.
i) Strap-based Resistance
A strap is attached to the flywheel to cause more resistance as it is tightened. Strap-based resistance is used on lower-end exercise bikes.
ii) Mechanical or Friction Resistance
Wool or rubber pads are placed on top or sides of the flywheel. If you twist the tension knob, the pads loosen and increase the resistance.
iii) Electromagnetic Resistance
Two magnets are placed almost closed to the flywheel of the bike. If you tighten the knob, the magnets move close together and increase the current between them. Such type of resistance is found chiefly on the higher-end of exercise bikes.
5. Display
While I do not consider this feature must-have, many people do. It is worth noting that not all exercise bikes consist of displays.
The display screen shows things like pedaling speed, workout time, calories burned, and heart rate.
Tips To Choose the Best Exercise Bike for You
Choosing the best fit for you can be tedious. There are several variables at play.
Let's look at some common ones that might be playing out on your mind.
1. Body Requirements
Before buying an exercise bike, make sure to ask yourself the following questions.
What type of bike fits my body requirements?
Does the bike fit my height and dimensions?
Can I do comfortable exercise on this type of bike if I have some physical limitations or back problems?
Can this type of exercise bike be adjusted easily?
Answering the above questions can make your search somewhat clear.
2. Intensity
After that, ask yourself if you want a full-body, high-intensity exercise. If yes, you should go for exercise bikes that offer enough resistance.
Answering this question can, again, narrow your search.
3. Size
Now that you have a suitable bike for a home workout, you should consider the size of the bike. While most exercise bikes fit almost everywhere, some take a lot of space.
4. Cost
And finally, you should consider the cost. Exercise bikes come in a variety of price ranges. No matter the limitation of the price range or you are out to splash the cash, you can find the best-suited bike for you.
Tips to use the Exercise Bike Right
Wow! We have covered a lot so far.
Now, there are a few tips you should keep in mind to prevent any injuries or discomfort.
Make sure to consult with your doctor first before starting using an exercise bike.
Maintain proper balance on the bike. Doing so will prevent you from falling from the bike and injuring yourself.
Always maintain proper body posture as wrong body posture can lead to strains and pains. Consult a professional trainer, if needed.
Never push too hard, as you might injure yourself in the process or develop muscle fatigue.
If you exercise with a group of your friends, do not feel compelled to push the extra mile to catch up with them. Follow your own pace and do not overwork yourself.
10 Best Exercise Bikes You Should Consider Buying in 2021
And now, the moment of truth.
Below is the list of the top 10 exercise bikes you should consider buying in 2021.
| | | | | | |
| --- | --- | --- | --- | --- | --- |
| S.N. | Exercise Bike | Resistance Level | Bike Type | Max User Weight (in pounds) | Price |
| 1. | Exerpeutic Folding Magnetic Upright Exercise Bike with Pulse | 8 Levels | Upright Bike | Up to 300 lbs. | $299 |
| 2. | Sunny Health & Fitness Indoor Cycle Bike | Micro-adjustable belt system | Indoor Bike | Up to 275 lbs. | $260 |
| 3. | Marcy Recumbent Exercise Bike with Resistance | 8 Levels | Recumbent Bike | Up to 300 lbs. | $279 |
| 4. | Marcy Exercise Upright Fan Bike | Dependent on speed | Dual-Action Bike | Up to 300 lbs. | $699 |
| 5. | Peloton Bike | 100 Levels | Indoor Bike | Up to 305 lbs. | $1,895 |
| 6. | Reach Air Bike Exercise Cycle with Moving Handles & Adjustable Cushioned Seats | 8 Levels | Dual-Action Bike | Up to 220 lbs. | $93 |
| 7. | Wattbike Atom and Atom Next Generation | 22 Gears | Indoor Bike | Up to 297 lbs. | $2,599 |
| 8. | Schwinn Airdyne AD7 Bike | Infinite | Dual-Action Bike | Up to 350 lbs. | $1,599 |
| 9. | Schwinn Upright Bike | 25 Levels | Upright Bike | Up to 300 lbs. | $991 |
| 10. | Exerpeutic ExerWorK 1000 Desk Station | 8 Levels | Recumbent Bike | Up to 300 lbs. | $232 |
Top 10 Exercise Bikes in 2021
Now, let's get on every product in detail.
1. Exerpeutic Folding Magnetic Upright Exercise Bike
The Exerpeutic Folding Magnetic Upright Exercise Bike, like most other exercise bikes on our list, can support up to 300 pounds (lbs) of weight.
The large seat of this exercise bike makes it easy for people of all body shape and sizes to use it conveniently.
The LCD that comes with this exercise bike is where you can see your time spent, speed maintained, calories burned so far, and distance covered.
And the fact that it does not make any noise while using it is a plus, in my opinion.
Pros
Foldable and portable
Hand pulse sensor
Compact
8-level magnetic resistance control
Cons
Not so durable pedal straps
Mileage resets to 0 after 999.9 miles covered
2. Sunny Health & Fitness Indoor Cycle Bike
The Sunny Health & Fitness Indoor Cycle Bike is a sturdy and solid stationary bike with a steel frame. It features a 49-pound flywheel which allows the bike to hold people up to 275 pounds (lbs).
The seat of this exercise bike can be adjusted to four settings, and the pedals include clips to keep your feet in place as you work out.
Sunny Health & Fitness have done an excellent job with their leather band resistance system. It is designed to replicate and simulate the real-life feel of a real bike.
Now, this exercise bike does not come with a display screen. But if you are a motivated individual like me, you do not want one anyway.
Pros
Sturdy, sturdy, and durable
Quick assembly
Good resistance
Quiet and almost no noise at all
Affordable
Cons
Not suitable for short people
3. Marcy Recumbent Exercise Bike with Resistance
The Marcy Recumbent Exercise Bike with Resistance comes with a beautifully compact design. Such compactness allows you to place the bike in tight spaces easily.
The seat of the exercise bike is adjustable and padded. It means people of all heights will be able to experience pleasant exercise on a bike.
Speaking of recumbent exercise bikes, the handles are covered with foam, offering additional support to your back and arms while on your workout. Also, the pedals are explicitly designed to give you maximum foot support, which is nice to have.
The LCD that comes with the exercise bikes shows information like time, speed, distance, and calories burned.
Pros
Safety straps on pedals
Small transport wheels for easy movement
Sturdy and durable
Recumbent handlebars
Cons
Time-consuming while assembling
4. Marcy Exercise Upright Fan Bike
The Marcy Exercise Upright Fan Bike is perfect for you to look for a full-on cardio workout.
This exercise bike is made up of a premium steel frame and constructed with a 14 gauge steel tube. All this makes this exercise bike highly durable.
The innovative resistance system that comes with this bike is impressive as it involves a fan instead of a typical flywheel. As you keep on pedaling faster, the fan increases the resistance.
Now, the seat of this bike is adjustable. It will help you maintain proper body posture while pedaling.
Pros
Transport wheels for easy movement
Adjustable seat and levelers
Highly durable
Cons
The fan can make it noisy
Some parts may not be that durable
5. Peloton Bike
If you have researched for the best exercise bike out on the market, odds are you have stumbled onto the name Peloton Bike.
Peloton Bike is the answer to your gym-like exercise bike search. It is the home version of most gym exercise bikes.
Peloton Bike is popular for its high price tag and exceptional quality of exercise. And yes, it does live up to the expectations.
This exercise bike comes with an adjustable seat, handlebars, and a big screen. The build quality of this exercise bike is also exceptional. The combination of it all is a sturdy, well-made, and durable exercise bike.
Pros
Extremely well build and study
Sleek, compact, and stylish design
Crisp big HD screen
Smooth and quiet ride
Cons
Very expensive
An additional monthly subscription for classes
You can buy this amazing exercise bike from its official website: Onepeloton.com.
6. Reach Air Bike Exercise Cycle
The Reach Air Exercise Bike offers a full-on body workout. The dual-action arms feature of this exercise bike increases your upper body endurance while you pedal.
This exercise bike comes with an LCD to track your speed, distance, pulse, and calories burned. The bike is effortless to use.
An impressive feature of this exercise bike is it allows moving handlebars to make it stationary—a top-tier feature for such an affordable exercise bike.
The exercise bike comes with an 8 level resistance knob to help you choose the best resistance for you.
Speaking of the style and comfort of the bike, it features an adjustable seat with cushions to prevent back pains, body fatigue, muscle stiffness, etc.
This exercise bike is perfect for you if you want a high-intensity workout at home at an affordable price.
Pros
Very affordable
Resistance control
Pedal straps
Very comfortable
Cons
No manual for assembling
Can be noisy while operating
7. Wattbike Atom and Atom Next Generation
The Wattbike Atom and Atom Next Generation are considered the alternative to the Peloton Bike and Bike+ at their similar price point.
The Wattbike Atom is a well-built and designed sturdy exercise bike. While it does not feature a screen at all, it offers seamless connectivity via Bluetooth.
The Atom can bear all kinds of workouts, lazy and slow cycling as you watch your T.V. show or a high-intensity beer-cutting workout.
This exercise bike is very customizable as you can swap your toe clips or handlebars for one of your choices.
The Wattbike Atom is perfect for you if you want to endure a challenging mountain climb as the Atom also simulates real-life bikes.
Pros
Incredibly sturdy and durable
Smart connectivity
You can check this Wattbike Atom exercise bike from its official website.
8. Schwinn Airdyne AD7 Bike
The Schwinn Airdyne AD7 Bike features a big fan instead of a flywheel. The fan helps give your whole body a good workout and not just the lower half.
Like Marcy Exercise Upright Fan Bike, the Schwinn Airdyne AD7 exercise bike is premium steel. It makes the bike highly durable.
Talking about resistance, because it is fan-based, the resistance increases as you pedal faster and faster.
While this bike is not the cheapest, it is excellent for you to look for a full-body workout.
Pros
Full Body Workout
Durable
9. Schwinn Upright Bike
The Schwinn Upright Bike features 25 levels of computer-based resistance. It means that if you want a heavier workout, you can set it quickly.
The exercise bike comes with a contoured seat with forearm rests. And the handlebars of the exercise bike are ergonomically designed while also featuring impressive heart rate grip sensors.
This exercise bike has 12 profiles of quick keys and 9 heart rate programs while also supporting up to four user profiles.
And finally, the design and build of the exercise bike are sturdy that can support up to 300 pounds (lbs).
Pros
Dual track LCD screen
Bluetooth
In-built speaker with USB connector
Cons
It can get noisy at times
Heartbeat is tricky to sort out with a lack of numeric value
Difficult to install initially
10. Exerpeutic ExerWorK 1000 Desk Station
Are you a workaholic who cannot seem to find time for yourself and work out? Well, Exerpeutic has got you covered.
The Exerpeutic ExerWorK 1000 Desk Station is a brilliant innovation for those working a lot. This exercise bike has been a go-to for most people working from home at such times.
This recumbent bike comes with a 16-inch x 24-inch adjustable table to keep your laptop, tab, notebook, etc. Perfect for burning calories as you attend a virtual meeting or watch some funny videos.
The desk station features an 8 level resistance and a digital monitor to track your progress.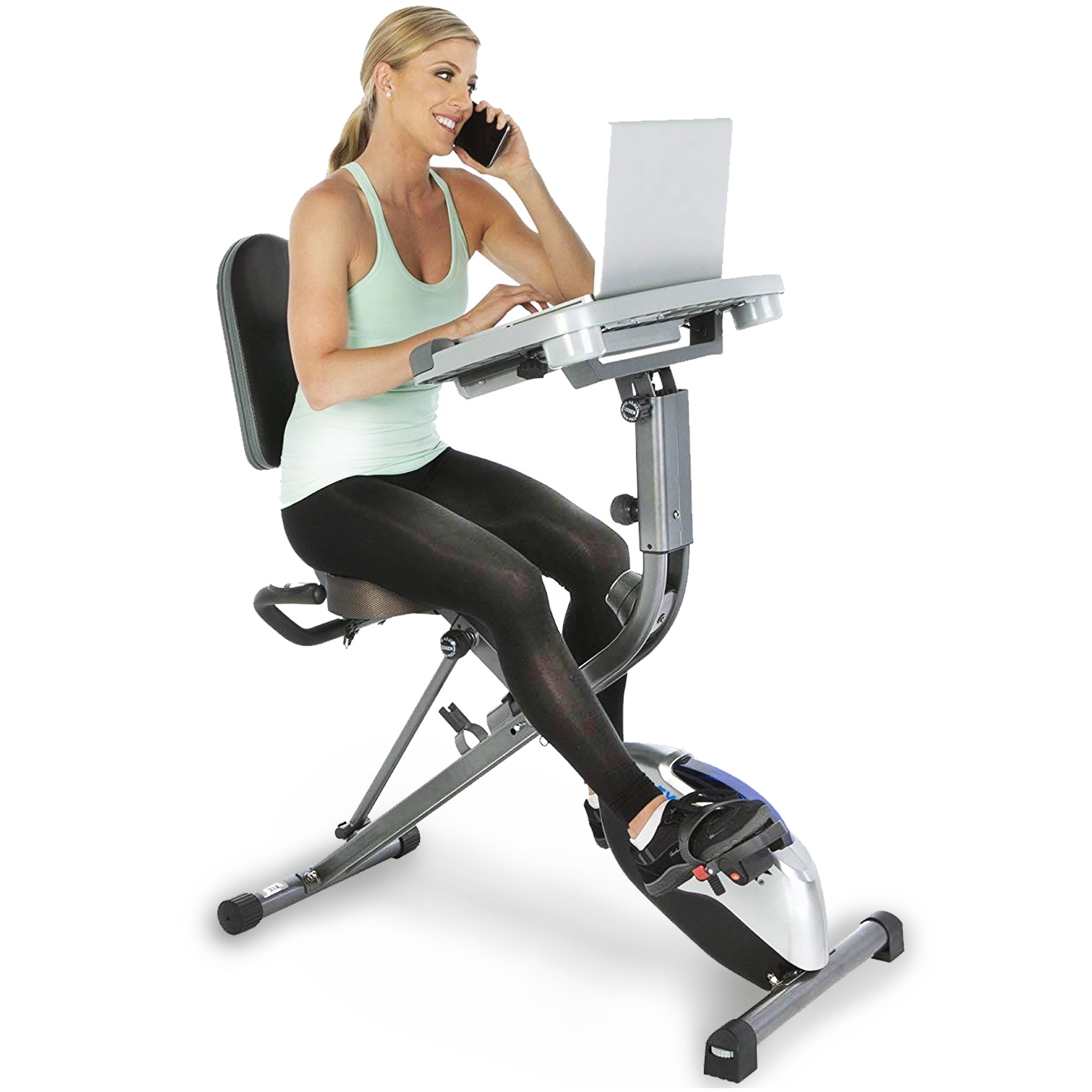 A friend of mine bought this desk station home, and her kids made fun of her. She cracked me up the next time we met.
After a week or so, she found one of her kids on the table using the exercise bike or desk station. She set her laptop on the table to watch Netflix and started pedaling away.
When not in action, you can fold and roll the bike away from the place. Storing a desk has never been this easy.
A combination of a work table with a bike pedal? Genius!
Pros
Great multitasking
Foldable and portable
Convenient
Cons
Can get noisy
Can develop some clunking sounds
Why Exercise Bikes Are Excellent For Health?
An exercise bike is a popular choice in the gym or at home. It is an effective and subtle way to become healthier, get fitter, and get more cardiovascular abilities.
Exercise bikes are fun, effective, and just plain simple. They improve your endurance and overall fitness abilities.
A study published in the journey Psychotherapy and Psychometrics found that bike riding improves a person's energy levels by 20 percent. Subsequently, it also decreased fatigue in people by 65 percent.
Exercise bikes are low-impact exercises. This means that they are not that strict on your joints, ligaments, and other body parts.
1. Strengthen Lower Body
With an exercise bike, you will strengthen your lower body as you work your legs, quads, calves, hamstrings, and glutes.
2. Improve Cardio
Needless to say, exercise bikes improve your cardiovascular fitness and endurance level exponentially.
Exercising on exercise bikes leads to a healthier heart that pumps blood and delivers oxygen to the body more efficiently. It will lead you to have a better lung capacity.
3. Better Mood
Personally, exercising puts me in a better mood. If I ever feel a bit down or lazy, I get in some moderate workout, and it would do the trick.
Hopping on my bike, I will relieve some stress, anxiety, and others that bring me down.
Weight Loss with Exercise Bikes
Thinking of an efficient, easy, and convenient way to lose some weight? Well, exercise bikes are your best friend in that case.
Exercise bikes are an excellent way to lose some excess weight efficiently. The bike burns calories and assists in creating a calorie deficit, ideal for weight loss.
You can set the exercise bike in the living room and burn some calories as you watch T.V. or even read a book.
Nowadays, most exercise bikes have a monitor where you can see the number of calories burned. That is an excellent factor for motivation and going the extra mile.
An exercise bike is an easy way to lose some calories quickly. Having said that, it is not as easy as keep on exercising on a bike slowly. There are some findings that you should keep in mind.
The amount of calories burned while exercising on a bike depends on the workout you are doing. It also depends on the time spent on riding as well as other factors like weight.
Here are some exciting findings from Harvard Health Publishing regarding how much calories are burned on exercise bikes.
According to them, a person weighing 155-pound who exercises at a moderate intensity on the bike for 30 minutes can burn 260 calories.

Similarly, a person weighing 125-pound who exercises for the same time and with the same intensity on the bike can burn 211 calories.

And finally, a person weighing 185-pound who exercises for the same time and with the same intensity on the bike can burn 311 calories.
The research also found that if the intensity increased, a person could burn more calories.
What are the Benefits of Exercise Bikes?
Now, we have already talked above about the exercise bikes being excellent for health. Let us now see some proven health benefits of exercise bikes quickly.
Strengthening Your Muscles
Reduced Risk of Type 2 Diabetes
Conclusion
Finally, we all can agree that exercise bikes are good for one's physical fitness. They come with plenty of benefits that we already discussed.
Therefore, if you are thinking of buying one for yourself, choose a suitable one according to your suitability and budget.
Furthermore, here is my relevant article which you might be interested in: Is Exercise Bike Good for Teenagers?