Bikes are a great medium to get from one place to another. But not all bikes are made to go everywhere. Thus, folding bikes out there are great to take with you and store easily.
Folding bikes have been around for quite a while now, and their popularity keeps on increasing. It is a perfect type of bike for you if parking is an issue.
They look similar to regular bikes, but the thing here is that you can just fold them up to a quarter of their original size and place them in the corner.
Folding bikes are small, light in weight, extremely versatile, and practical. Perfect for those who commute via bicycle and other mediums of transportation.
Say, you travel by bike to the train station, park your bike there, and take the train to work. Gone are the days as you can fold up your bike and easily take it with you.
Doing so saves you some money at the train station as you might have to pay a specific price for parking. And also, you can bike whenever you want.
I have a colleague who dreads commuting to work as he loses valuable time finding parking for his bike at the train station. He arrives at the office almost every day 20 minutes to 40 minutes late.
I recommended he get a folding bike, and he could not have been happier. He is saving time, and well, time is money.
In this article, I will take you on a journey to help you learn more about folding bikes. And finally, share my pick of the top 12 folding bikes to consider in 2021.
So without any further ado, let us get into it.
Find the Right Folding Bike for You
A folding bike that might be perfect for you does not mean it is the one for everyone.
Folding bikes come with many different wheel sizes, folding mechanisms, weight, price, and adjustability. Everyone has a different preference.
Let us check out the different factors of folding bikes in a little more detail below.
I believe after cruising below, you will find the best folding bike that suits you.
1. Folding Bike Wheel Size
Similar to regular bikes, folding bikes come in a variety of wheel sizes as well.
Folding bikes equipped with smaller wheels, similar to regular ones, will be much lighter and compact when folded. However, they will not gather as much momentum on the road.
On the other hand, a folding bike equipped with larger wheels will not be as lightweight and can be somewhat troublesome to get into a train or a bus.
But, they will be much faster once the wheels gather the momentum.
Now, you might be wondering what the different sizes of the wheel might be. Do not worry; I have got you covered.
Different Wheel Sizes of Folding Bikes
6 to 8 Inch – Specialty Wheels
Folding bikes with such small wheel sizes are meant for a maximum level of portability as they will be much lighter. However, it does come with a sacrifice which is some stability.
16 Inch – The Commuter
If you commute very often around the city, you should consider getting a folding bike with a 16-inch wheel.
Folding bikes with 16-inch wheels are compact and, as a result, a more miniature bicycle overall.
However, there are some downsides to smaller-sized folding bikes.
Due to the smaller size of the wheel, the cost of the bike might be high. Another one is, as most bike enthusiasts might know, smaller bicycles come with less stability.
20 Inch – The Standard
The most popular pick amongst folding bike owners is the 20 inch, or as I like to call it, 'The Standard.'
Folding bikes with 20-inch wheels are more stable than the 6 – 8 inch and 16-inch wheel sizes we have covered so far.
They are much more stable because of a more extensive, broader base, and most commuters love this about the bike.
A downside of this size can be the portability, but I have not heard any complaints from my colleague. He adores it!
24 Inch – Comfortably Numb
If you are a biker who loves to explore terrains and tackle bumpy roads now and then, this is the one for you.
Folding bikes with 24-inch wheels are incredibly comfortable than the ones we have covered so far. The large 24-inch wheel provides a perfect cushion for unexpected roads.
Now with these folding bikes, you have to make some sacrifices. The bike's weight is bound to escalate, and the cycle will not be as compact as others.
But hey, if parking or storing the bike is not an issue, definitely go for the 24 inches one or, as I nicknamed it, 'Comfortably Numb'!
2. Folding Mechanism
The main feature of the folding bike is, in the name itself, folding. It can go from a regular cycle to your hand in a matter of seconds.
Not all folding bikes have the exact folding mechanisms, though. Some might just fold in half, or some might have a few tricks to it.
So, be sure to visit the bike store to check it out before splashing the cash, so you do not regret it later on.
Also, keep in mind the number of joints the folding bike has. You know what they say; the more, the merrier. It is undoubtedly the case here.
The more the number of joints, the smaller the bike will be able to fold.
Pro Tip: Practice folding and unfolding the bike before you buy it, so you do not lose your valuable time later on in the train station.
3. Lightweight
As per my colleague, weight is a crucial factor if you bike to the train station and carry your bike with you.
Be sure to check out brands that use lighter frame material such as titanium or aluminum, such as Brompton or Hummingbird.
Higher quality of components reduces the weight of the overall bike significantly.
Additionally, opting for fewer gears will help remove the excess weight too.
So, if you do not care about the need for speed, opt for fewer gears and enjoy your light folding bike.
4. Adjustability
As we have mentioned earlier, a folding bike that might be perfect for you might not be for others. So keep an eye out for that.
Plenty of folding bikes are made to be for all with high adjustability. Meaning, you can easily let your friend borrow your folding bike, and he would quickly adjust to it.
However, if adjustability is one of the main concerns for you, make sure to check the brands that offer a great deal of versatility.
Again, Brompton bikes are incredibly adjustable with their long seat stem that a simple quick-release lever can adjust.
5. Electric Folding Bikes
In recent times, folding electric bikes have grown immensely popular amongst commuters.
Adding a motor or engine to a folding bike can take you from one place to another without much hassle. But with great speed comes great sacrifice!
The overall weight of the folding bike increases significantly as some can weigh around 20 kilograms.
With that in place, transporting an electric folding bike from one place to another might not be the easiest thing to do.
Materials of Folding Bikes You Should Know
The bike manufacturers use different low-end and high-end components such as aluminum, carbon fiber, steel, etc. By doing so, manufacturers produce high-end or low-end folding bicycles.
Manufacturers either use low-end components to produce bikes lower on the price spectrum. Similarly, using high-end features makes a bike's price higher.
Brompton, an excelling and top folding bike manufacturers, specializes in steel. They ensure a solid yet lightweight bike frame using their high-quality brazing technique.
While a manufacturer can use steel to make a resilient and comfortable bike frame, it would not be the lightest frame out there.
Another one, aluminum, has a nice balance between weight and resilience. And it does not empty your pockets (or bank balance at this age) that much too!
But if you are looking for the best out there, look out for carbon-fiber framed folding bicycles. They are super light and incredibly versatile.
However, you must remember that you can easily damage a carbon fiber frame compared to steel or aluminum because it is lightweight.
If you would like to read more about folding bikes, check out this article I wrote a while back: Are Folding Bikes Worth It?
With that being said, I am not trying to say that cheap ones are not trusted.
You can be well surprised by opting for a relatively more affordable folding bike. It all comes down to personal preference.
However, you should note that while lower-end folding bikes do everything up to the standard, they will pack quite a bit of weight because of the choice of the bike frame.
Top 12 Folding Bikes to Consider in 2021
And now, the moment we have been waiting for.
Below is a summarized table of my pick for the top 12 folding bikes to consider in 2021.
I want to add that I would vouch for any of them even though they are numbered 1 – 12.
Pick any one of the below, and you will not regret it.
| | | | | | | |
| --- | --- | --- | --- | --- | --- | --- |
| S.N. | Name | Frame Material | Wheel Size (Inches) | Weight (Pounds) | Folded Size (Inches) | Price ($) |
| 1. | Brompton M6R | Steel | 16 | 27 lbs | 25.3 x 10.6 x 23 | $1,730 |
| 2. | Dahon Mariner | Aluminum | 20 | 38 lbs | 33 x 12 x 26 | $869 |
| 3. | Oyama CX8 | Alloy | 20 | 29 lbs | 33.5 x 24.5 x 15.5 | $749 |
| 4. | EuroMini Zizzo | Aluminum | 20 | 23 lbs | 27.25 x 33.2 x 13.5 | $300 |
| 5. | Schwinn Loop | Aluminum | 20 | 33 lbs | 32 x 11 x 30 | $430 |
| 6. | Tern Verge 9D | Aluminum/Steel | 20 | 28 lbs | 31.5 x 17.3 x 29.1 | $1,149 |
| 7. | GoPlus 7-Speed | Aluminum | 20 | 32 lbs | 59 x 22.5 x 46 | $299 |
| 8. | Hummingbird Folding Bike | Carbon Fibre | 16 | 18 lbs | 46 x 23 x 8 | $5,194 |
| 9. | Kespor K7 | Aluminum | 20 | 31 lbs | 31 x 26 x 14 | $400 |
| 10. | Schwinn Hinge | Steel | 20 | 33 lbs | 32 x 30 x 11 | $319 |
| 11. | Eurobike 26 Mountain Bike | Aluminum | 26 | 38 lbs | 34 x 16 x 38 | $269 |
| 12. | Citizen Miami | Steel | 20 | 32 lbs | 35 x 23.5 x 17 | $389 |
Top 12 Folding Bikes to Consider in 2021
1. Brompton M6R
Brompton has been around for a while now, and they keep delivering gems of folding bicycles.
The Brompton M6R is no exception as it is one of the best folding bicycles available at the moment.
The M6R boasts a 16-inch wheel and a beautiful hand-brazed Chromoly steel. Combine the two, and you get a beautiful 27-pound folding bike.
It is such a compact, versatile, and high-quality folding bike that you can squeeze it pretty much anywhere. The M6R folds up to 25.3 x 10.6 x 23 inches.
With such a high-end folding bike, the price is bound to be high. And so, it is.
The Brompton M6R is one of the priciest folding bikes I have picked in this top 12 list.
As expected, Brompton has made no compromised with the M6R. It is a well-built, high-quality folding bike that is out there.
2. Dahon Mariner
The Dahon Mariner is an 8-speed folding bike widely popular amongst city and rural riders alike.
The Mariner features a 20-inch wheel and weighs 38 pounds with an aluminum, rust-resistant frame, giving the bike a nice look.
It is a highly versatile folding bike and folds up to 33 x 12 x 26 inches. Easy to carry around.
I have seen the Mariner cruise around my locality a bunch, and well, it is a no-brainer. It is the most searched folding bike online, and the positive feedback for the brand and bike is off the roof.
Speaking about the price point, it is not that cheap. However, it is almost half the price of Brompton M6R. And they are both equally good!
3. Oyama CX8
Another brand that has been around for a while is Oyama. They make super folding bikes.
The Oyama CX8 is a very versatile-looking folding bike that can fold up to 33.5 x 15.5 x 24.5.
It is equipped with an 8-speed cassette, a set of 20-inch wheels, an aluminum frame, v-brakes, fenders, and a rear rack.
The CX8 put all the above components together and weighs a staggering light 29 pounds.
And all this lightweight package comes in just under 800 dollars. Again, not the cheapest but worth every penny!
4. EuroMini Zizzo
The EuroMini Zizzo has made it to my number 4. A key point here was the score of 4.6 out of 5 amongst more than 420+ ratings on Amazon.
The Zizzo is feature-packed with a 7-speed Shimano Tourney derailleur, nice thick 20 inch wheels, and a durable aluminum frame.
All of those mentioned above can be folded up to 33.2 x 13.5 x 27.25. And all this weighs in at a total of 23 pounds.
It is compact, incredibly speedy, and super easy to carry around with you.
The single-fold stem fold and the magnet holding the bike together make your job of carrying around so much easier.
For me, this is the best value bicycle that I have to offer here as all this comes for a nice 300 dollars. A round of applause!
5. Schwinn Loop
The Schwinn Loop is one of the fan favorites on our list.
The Loop is designed to be adjustably fit for just about everyone between 5 feet to up to 6 feet and 2 inches.
It comes with seven gears to help you take the bike through the ups and downs on a day-to-day basis.
Similar to most of the others, it comes with a 20-inch wheelbase and packs a total weight of 33 pounds overall.
You can easily carry the bike around as it folds up to 32 x 11 x 30 inches.
The folding bike has a cargo platform at the back on top of the wheel and includes a detachable nylon bag.
With this addition, you can easily add your work gear and anything else you want to carry with you.
While the Schwinn Loop is not the lightest folding bike on my list, it certainly is worth every penny.
If you are looking for a mid-range brilliant performing folding bike for everyday purposes, you cannot go wrong with the Loop.
6. Tern Verge 9D
Tern bikes have also been around for a while. They are renowned for their e-cargo and e-folding bikes.
Hence, It is fair to say that they have been creating compact and convenient commuting folding bikes for a while. And the Tern Verge 9D is no exception.
The bike is made for commuters, leisure riders, or anyone who loves recreational activity. It is made for all.
The Verge 9D looks as attractive as Jennifer Lopez on Grammy awards (or other awards) with rich features.
This folding bike from Tern is an absolute beast of a folding bike with 9 speeds and a Shimano Acera rear derailleur.
It is a highly durable and overall powerhouse that can tackle any terrain.
It is one of the best folding bikes with its hydroformed aluminum frame, wide gears, and hydraulic disc brakes.
While it is not the lightest on my list, it is lightweight, with the bike packing only 28 pounds boasting a 20 inch set of wheels.
To fold the Verge 9D, unlock the quick-release located on the main tube, fold the bike mid-way, fold the handlebar, and push the saddle downwards and you are good to go. The result is a compact 31.5 x 17.3 x 29.1 inches.
Now, this is where it can get tricky, the price point. The Verge 9D is not the cheapest bike on my list.
It is a high-end folding bike on the list and well worth your cash.
7. GoPlus 7-Speed
The GoPlus 7-Speed folding bike comprises a sturdy aluminum frame and features ergonomic, anti-slip handles. The feature keeps you comfortable during long commutes.
Now, as in the name, the GoPlus can go up to seven speeds. You can find what suits you best and zoom out.
The 20-inch wheel equipped with the folding bike is bound to keep you upright while making you feel solid and confident.
In my opinion, there are a couple of downsides to the Goplus 7-Speed.
At 32 pounds, it is a lightweight bike. However, not the lightest. It folds up to 59 x 22.5 x 46, which is not the most compact.
But hey, coming at a price point of almost 300 dollars, there are bound to be some sacrifices.
However, in terms of overall biking experience, the GoPlus 7-Speed does what needs to be done.
8. Hummingbird
The Hummingbird folding bikes are incredibly lightweight bicycles on the market. Hands down!
Most bicycle enthusiasts pick a Hummingbird among the rest without any questions when given a choice. And why not!?
As mentioned, they are incredibly lightweight, have a state-of-the-art design, and, needless to say, stand out amongst the rest.
Customers can opt for a wide range of colors and also customize according to preference via their website.
This folding bike is made up of carbon fiber, one of the lightest bike frames out there.
The Hummingbird weighs in at just 18 pounds, but if you add other features (offered via their website), their weight will definitely take a hit.
You will get a smooth biking experience with a 4-speed Sturmey Archer internal hub gear with chain or belt drive.
It comes with 16 inch set of wheels which is meant for everyone. When folded, you will get a 46 x 8 x 23 inches folded bicycle to carry anywhere.
However, the most significant talking point of this folding bike is its price. They are pricey! But beauty like this does not come cheap.
Hummingbird folding bikes are the best folding bikes on the market, whether you use them daily or from time to time.
9. Kespor K7
Kespor K7 is one of the cheapest folding bikes on the spectrum. But, like the rest, it packs quite a bit of punch.
The K7 is meant for cyclists who know how to treat their bikes as a baby. That is, not push it to a hardcore extreme but use it for an occasional visit to the farmer's market or just a cruise around.
It has a 7-speed read derailleur, 20-inch wheelbase, and all packed in a 31 pounds package.
The aluminum frame bike can get as compact as 31 x 14 x 26 inches.
The adjustability of the bike is excellent for people ranging from 5 feet to over 6 feet tall.
And it comes with a carrying rack. Most folding bikes do not come with one, but here they do.
The Kespor K7 is another one of the cheap bikes on the list. But as I keep on repeating, this does not matter.
10. Schwinn Hinge
Yet another folding bike from Schwinn! Yes, they are that good.
The Schwinn Hinge is another one of the cheap folding bikes on the list by a big brand.
It comes with fenders, a rear rack, and a chain guard. Not all bikes come with them, and you have to splash some extra cash for it.
The folding bike is made up of steel which means it will not be as light with 33 pounds of total weight.
But still comes with a standard 20-inch wheel and folds up to 32 x 11 x 30 inches. Pretty solid if you ask me.
The Hinge is a great cheap folding bike for you if you commute a lot and need to carry them occasionally.
11. Eurobike 26 Mountain Bike
The Eurobike Mountain Bike is for those avid mountain bikers out there.
This bike comes with a 21-speed shifting system as you are bound to take on a hilly challenge. I know, right? Staggering!
Just because this is a mountain bike does not mean you cannot commute in them. It is made for whatever you throw at the bike.
It also features a double-disc braking system to keep you safe in hills or on the road.
This Eurobike is made of aluminum, equipped with a 26 inch set of wheels, a super easy foldable mechanism, and weighs 38 pounds.
When folded, you get an easy-to-carry 38 x 16 x 34 inches bike.
The well-built, well-designed, and sturdy folding bike comes cheap—another plus point of the cycle.
12. Citizen Miami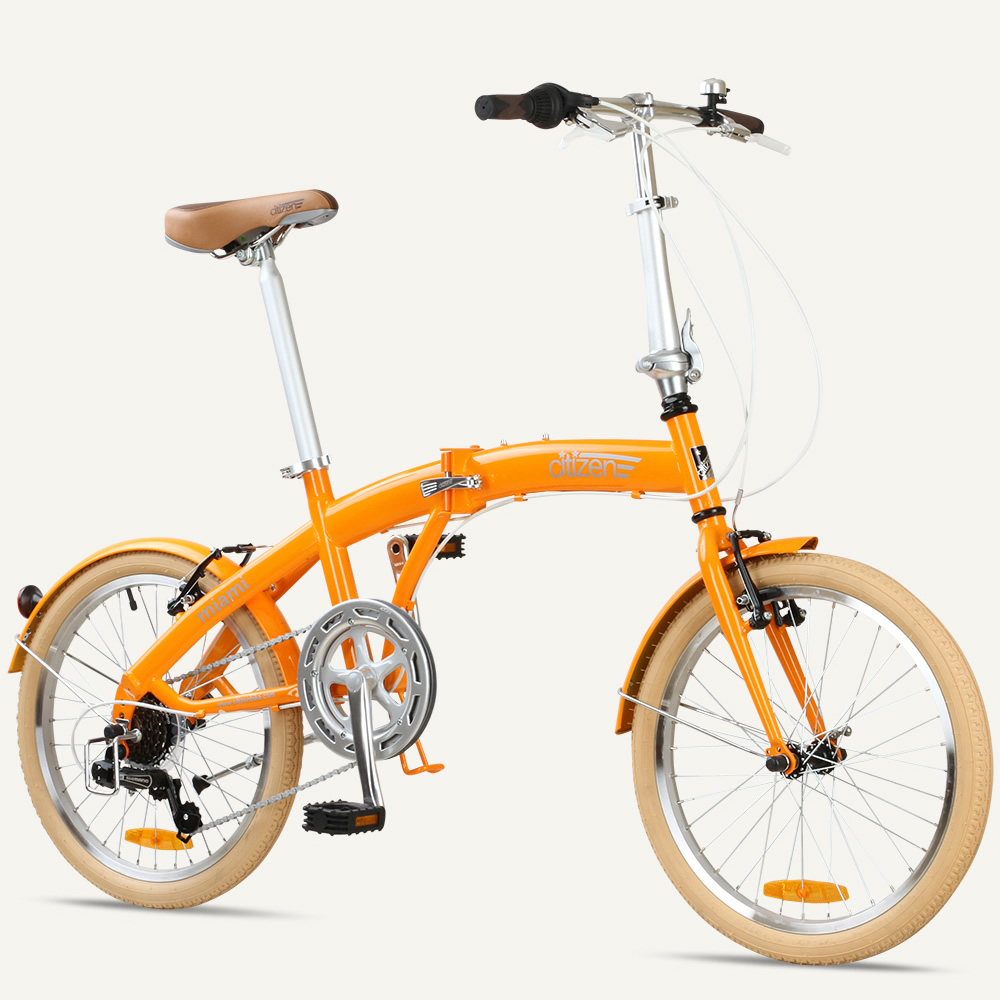 The Citizen Miami is a folding bike if you love a cool-looking bike.
This folding bike is incredibly stylish, has a European vibe to it, and you will look pretty cool riding this baby around town.
You can adjust the bike to your preference easily with an adjustable seat and handlebar.
After getting comfortable, you can take the Miami for a spin as it allows six speeds to cruise comfortably and at your pace.
The Miami is made up of steel, which means it will not be as light as others on the list. It also comes with a 20-inch wheelbase and can fold up to 35 x 17 x 23.5 inches.
While a total weight of 32 pounds might strike your chord, I assure you, it is still light.
The price of this folding bike is pretty good too. It falls on the cheaper spectrum like a lot of the bikes listed here.
Get yourself a Citizen Miami, and you will look as cool as a cucumber.
Conclusion
And so, there you have it. The top 12 folding bikes to consider in 2021.
I hope I shared some valuable insight on the top 12 folding bikes to consider this year (and next and more). And also other things you would need while choosing a folding bike.
So what are you waiting for? Go on and pick yourself one and start cruising on the streets!